Prestige Mustang -
Parts Cars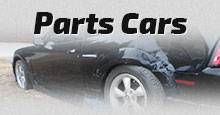 Looking for a specific part for your particular Mustang? We have an entire yard of parts cars that may have the exact piece you are looking for. Look at our inventory of parts cars or give us a call. These are not project cars nor are these cars for sale. But if you need a hard to find part, it's here!
Select a Sub-Category
---
More About
Parts Cars
Parts Cars Disclaimer
The cars, as shown, are listed for parts only. These cars are not for sale as a whole via either court order issue title and/or crushing by law. Visit the listed links if you wish to purchase for purpose of rebuild or daily driver.